How To Prevent Possum In Your Backyards?
Possum Removal Hobart provides you with the services of removing possums or any other kind of unwanted animals. There are various disadvantages to having these possums in your backyards. Therefore, you can't have them in your homes. So, here are our backyard possum removal services to get rid of them from your backyards. But It needs to be done very professionally by not just removing but also preventing further infestations. Our team has the capability of carrying out the whole process in the right and effective way. We helped a whole lot of people who have been suffering from having those possums in their backyards. Our team will provide services in Places like schools, offices, motels and hospitals. Our team will be there within a very short period from your appointment. Just consider getting our service whenever you wish for it.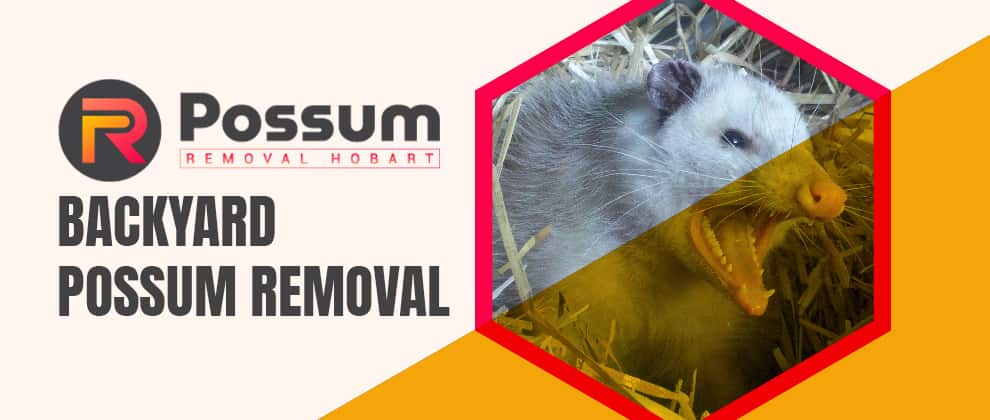 The Procedure We Follow In Removing The Possum From Your Backyards.
Possums are generally detrimental creatures. When they borrow into our times they end up becoming pests. That's when our experts will aid in the possum removal. Since they stay in crevices or under brush piles in homes, they even feed on undesirable creatures like snails, insects and slugs. However, they are not so worth maintaining at your properties so they need to be evaded from your houses, especially backyards. For that, we follow some amazing steps to perform backyard possum removal service:
Inspection: Our possum pest removal team is at your doorstep at the earliest and plan, then discusses with the client the process we follow and ask for other information. We make our clients learn additional information about our services as you call us for a service. They first clearly inspect the whole house and gather information.
Trapping: After the keen observation of the whole location of the possum nesting, our possum trapper is going to put a trap with the necessary bait. Once we place the desired traps the job is done. Need to relocate the trapped possum soon as possible. And then further follow-up sessions are scheduled.
Preventing the infestation: After trapping the possum with the bait then the necessary steps for prevention need to be followed. As our team always excels in providing the best service for the customers we try to remove it and cover the nesting of the possums as a preventive measure.
Sanitisation: Lastly, our team is going to sanitize the whole secured area from where the possum had been removed. Following with detailed follow-up.
Other Animal Removal Services You Will Need
We excel in backyard possum removal services. Here are some of the other animal removal services that we excel in. We follow the safety precautions for any animal removal services and advanced techniques in order to make our service hassle-free. Our other Services are
Rodent removal services
Rat removal services
Bat removal services
Raccoon removal services
We remove the animals not just from backyards but also from inside your houses, from crawl places, from under your house, and from garages as well. Wherever the location might be. Our services are helpful for a large number of people.
Our Pocket-friendly Charges For Our Professional Services
The animal removal costs can differ based on the location dealt with, the number of possums removed, and are secured. Our team manages to deal with very fair costs that too with professional service. We often consider the affordability of our clients and do the work accordingly. Therefore, we make sure that our backyard possum removal service makes it beneficial for you. If you need to get free quotations, get in touch with our experts. Our team will let you know the details regarding the same.
Why Do People Trust Our Services For the Possum Removal?
Our backyard possum removal services are trustworthy. We ensure professional outcomes for the work we provide. We always make sure that no hassle is created for our clients when we perform our work. We are available on weekdays or weekends or even During holidays just after booking an appointment, we are right at your door with the best service you would see.
Accessibility: Our team is trained in such a way that we are accessible to any of the locations our client demands.
Pet Friendly: The techniques of removing possums from your backyards are very advanced ones which are very pet friendly and cause no discomfort for your pets.
Budget-friendly: The services we provide are totally professional. But the charges we demand are purely pocket friendly.
Emergency services: our team is going to give you a helping hand in your emergencies without an appointment. Also, guide you with some necessary suggestions if you wish.
Effectiveness: Our efficient team excels with the services we provide. The feedback our team has received will give you an idea of how our team is going to perform.
Book Us Today!
Our team just ensures the work is done efficiently while you just sit and relax. The whole process will be carried out in a way that you don't have to put any effort into. So, without any delay does reach out to us right away. Make an appointment now and get our services promptly.
For any questions or concerns just call us at 0488 852 854.
FAQs
How to get rid of possums?
These are to be taken away carefully and also totally in a professional way. For that, you can reach out to our team where they do help you in getting rid of possums.
Why is possum removal so important?
As it feeds on undesirable creatures like insects, and slugs and might host in your homes and dread diseases like Lyme disease, scabies, etc.
Where do the possums locate?
Possums usually reside in crevices or under your garages or under houses where darkness exists, as they are nocturnal they are active during the night.
Will Possums harm humans?
Not directly, as they are very small creatures they are not strong enough to harm a human physically but they carry a lot of disease-causing agents along with them they are harmful in a way they spread deadly diseases.
Why actually a possum enters the house?
If it's dark inside, as it is nocturnal, They might get attracted to your pet's food and water, especially cat food. If the pet bowl is empty till morning might be an indication of possum presence.